We are a research focused campus and have developed a model for evidence
informed practice that we apply to all our professional development work.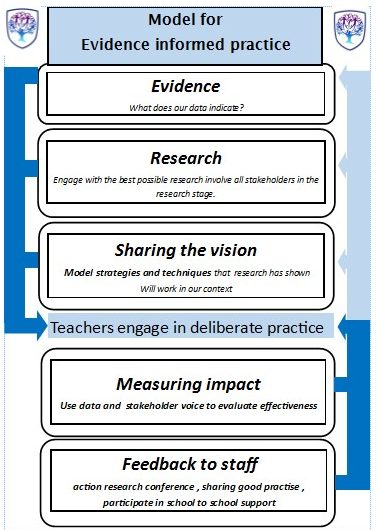 We understand the critical contribution that professional development makes to improve the quality of care and welfare of our staff in order to raise standards of our students. The Brookvale Groby Learning Campus aims to provide a career development programme that uses the best available evidence and research to ensure excellence is achieved together and in partnership with all colleagues.  Utilising and developing the good and outstanding practice already present in the campus in conjunction with the best research available we value everyone by maximising the development opportunity of every member of the teaching staff.
Aims:
Build a learning community where learning is a focus for all teaching and non-teaching staff.
Provide a quality programme of professional development that focuses on progression at each stage of a teachers' career.
Provide in house leadership programmes and deliver the NPQ programme as part of TELA.
Develop a CPD programme where teachers take control of their learning and are continually involved in a process of research and development
Teachers who feel part of a campus where talent is nurtured and good practice is shared recognised and rewarded.
Encourage collaborations with other local professionals through our school to school support network.
Engage in action research and lesson study and share our finding as part of our Teaching School Alliance and our involvement with Kyra Research School.
A Leadership team who use their knowledge of the strengths and weaknesses of teaching to mentor and coach staff.
A clear and effective performance management policy which links teacher standards to performance targets.
Support other schools as an NLE Support School.
Professional Development:
At Brookvale Groby Learning Campus we nurture talent and develop all staff at every stage of their career.
We have a whole range of professional development options and colleagues are encouraged to share good practise and collaborate in a range of ways from Action Research to Lesson Study to becoming a member of a Teaching and Learning community. All staff are encouraged to have a Professional Development Review with the Head Teacher and Deputy Headteacher in order to personalise their professional development opportunities.
Whichever way you want your career to develop there are lots of options here at Brookvale Groby Learning Campus.
For teachers in the first years of teaching:
NQT mentor
Induction programme
Buddy
NQT programme via Teaching School Alliance
For teachers with 3 to 4 year's experience:
SEP coordinator
TLC chair
PGCE mentor
Buddy to NQT
Action Research coordinator
School to school networking
Leadership development course
For more experienced teachers:
Peer to peer coaching
Mentoring
Deliver whole school/Faculty CPD
SLE
Host visiting colleagues
Participate in teachmeet
Liaise with universities
SSAT Leading Practitioner
Support middle leaders in other school via HeadTeacher's  NLE work
Leadership Development programmes available 2019 – 20:
What is Leadership? A Twilight Training Session
Leadership Action Plan/Leadership task
Action Research project
MLT 1:1 coaching session
School visit
Conduct a joint lesson observation
Learning resources Andy Buck Leadership Matters
Membership of Chartered College of Teaching