Our Teaching and Learning Challenge
Our motto as a campus is 'Work Hard, Be Kind'. As exams at 16 and 18 are more demanding than ever, we know that the 'Work Hard' element of our motto is vital from the moment each student starts in Year 7.
Over the last few years the formal curriculum we study in school has changed. Most courses are linear which means students learn the content over a long period and are examined at the end of 2 or more years.
Every course also has increased knowledge and content or a higher level of skill requirement. Students need to know, in-depth, more content about a subject and retain it for longer. Their brains need to pull on a larger, broader body of knowledge and pull it together in the pressurised conditions of an exam.
In order to meet this challenge our approach to learning utilises the latest information about how the brain works in terms of memory power.
In short, we want our students to become powerful learners: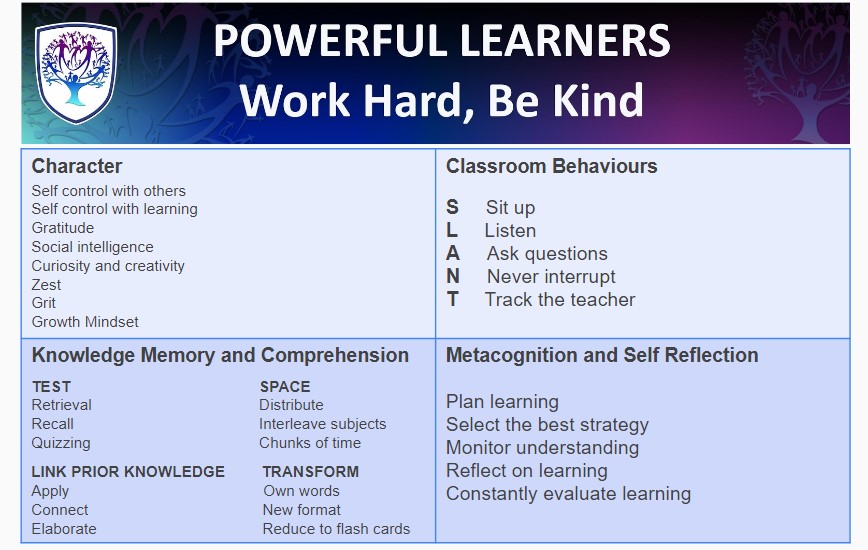 The Latest Pedagogical Research
The latest research tells us more than ever about how the brain works in terms of retaining larger amounts of information. We have used three key pieces of research to inform our work.
Cognitive Load Theory: Cognitive Load Theory states that our working memory is limited in terms of capacity. We can only hold 6 or 7 facts at any one time in our short term memory. If we overload it with too much information in one go, and we don't understand it well, it will be harder to retain the information or we will make mistakes when processing the information.
  Click HERE to view the Cognitive Load Theory Report 
Rosenshine's – Principles of Instruction: Rosenshine's Principles of Instruction emphasises how our teachers need to break down learning in the classroom (in order to support cognitive load theory.)
  Click HERE to view the Principles of Instruction pdf 
Dunlosky's – Strengthening the Student Toolbox: Dunlosky challenges our bad habits of highlighting, rereading, and cramming for tests. Research shows that while these three strategies are commonly used, they have been ineffective in retaining information.
  Click HERE to view the Strengthening the Student Toolbox pdf
Applying Research to our Teaching and Learning
In response to the latest pedagogical research we have developed a culture of learning which supports students in the following ways:
Almost every lesson students will start with a 'do now' activity which quizzes knowledge from previous lessons.
Every module taught over a series of lessons will be supported by a 'Knowledge Organiser' which summarises the key information needed to understand the module.
As part of their 20:20:20 homework, students will be expected to self-test from the Knowledge Organiser at regular intervals so that they can begin to move the knowledge from their short term to their long term memory.
The more a student revises information and revisits knowledge at spaced intervals the more likely they are to be able to pull the information from their long term to their short term memory.
Over time our Subject Leaders and teachers will be reorganising modules so that students will learn a small section of a unit before moving onto another unit. This practice of breaking subjects into smaller chunks is called 'interleaving'. It may be quite normal for your child to be studying a topic at the start of the year and going back to it at different points throughout the year.
To support students to become powerful learners, teachers will use the following framework as a guide to planning their lessons: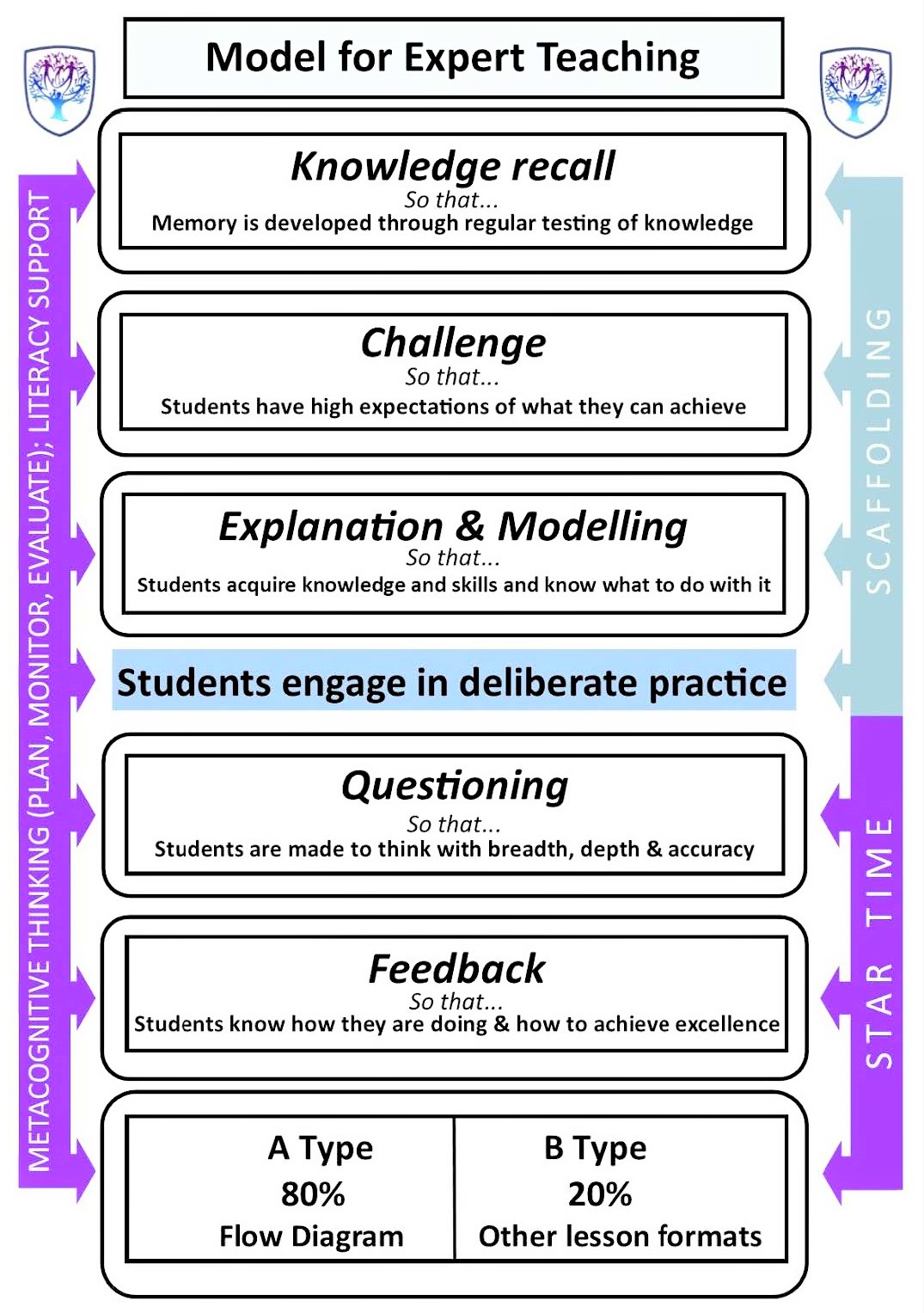 Teaching & Learning Communities (TLCs):
We have been running Teaching and Learning Communities for over 6 years.
Teaching and Learning Communities meet regularly in cross curricula groups of 10 -12 staff with a focus on teaching and learning.
The first two years of TLCs had a single focus such as metacognition, learner independence and feedback. In 2014 we were chosen from over 700 schools to become part of an ongoing two year national research project led by the well-known educationist Dr Dylan Wiliam and sponsored by the Education Endowment Foundation (EEF).
The focus of the research was to develop strategies and methods that teachers could use to give feedback to students. This research project has had a long lasting impact and has led to each faculty area developing effective feedback practices in order to help students to improve.
In 2017-18 the Campus embraced new technologies including google apps for education. TLC's were used to share how the google learning environment could give students improved access to resources to support their learning.
TLC's in 2018-19 focused on the knowledge curriculum and on embedding our use of Knowledge organisers.
In 2019-20 our TLCs considered research in the following areas and discuss practical implications for the classroom:
Behaviour, building rapport and motivating pupils
Improving literacy in secondary schools
In 2020-21 our TLC will focus on Assessment for Learning and  Remote Learning.