---
Our Teaching and Learning Challenge
Our motto as a campus is 'Work Hard, Be Kind'. As exams at 16 and 18 are more demanding than ever, we know that the 'Work Hard' element of our motto is vital from the moment each student starts in Year 7.
Over the last few years the formal curriculum we study in school has changed. Most courses are linear which means students learn the content over a long period and are examined at the end of 2 or more years.
Every course also has increased knowledge and content or a higher level of skill requirement. Students need to know, in-depth, more content about a subject and retain it for longer. Their brains need to pull on a larger, broader body of knowledge and pull it together in the pressurised conditions of an exam.
In order to meet this challenge our approach to learning draws from cognitive science research into how students can transfer knowledge from their working memories into their long-term memories.
---
Investing in our Teachers:
At BGLC, we pride ourselves on placing Teaching and Learning as one of the key pillars of our organisation. In order to support our students to achieve their potential, we ensure that teaching and learning is never off the agenda. We use the best available evidence in order to inform our approaches as to what works best in the classroom, such as the excellence guidance from the Education Endowment Foundation.  As a result, our staff receive:
Weekly faculty and whole-school briefings to discuss pedagogy
Regular after school CPD
Individual Growth Management plans and coaching to support teacher development
Opportunities to grow with external CPD courses, such as NPQSLs
An opportunity to collaborate with staff from across the campus in the form of our Teaching & Learning Communities
We have a very strong staff body of subject experts, many of whom belong to subject associations and who mark GCSE and A-level scripts for Examining Bodies.
---
Teaching & Learning 'Sway' newsletters:

Take a look at some of our recent T&L Newsletters to see how teachers have been maximsing opportunities for learning in their classrooms.
---
Teaching & Learning Communities (TLCs):
We have been running Teaching and Learning Communities for over 7 years with the aim of inviting staff to collaborate in order to improve the learning experience and outcomes of our students on Campus.
This year, we will be working in small groups across the campus to focus on improving student engagement in thinking and learning.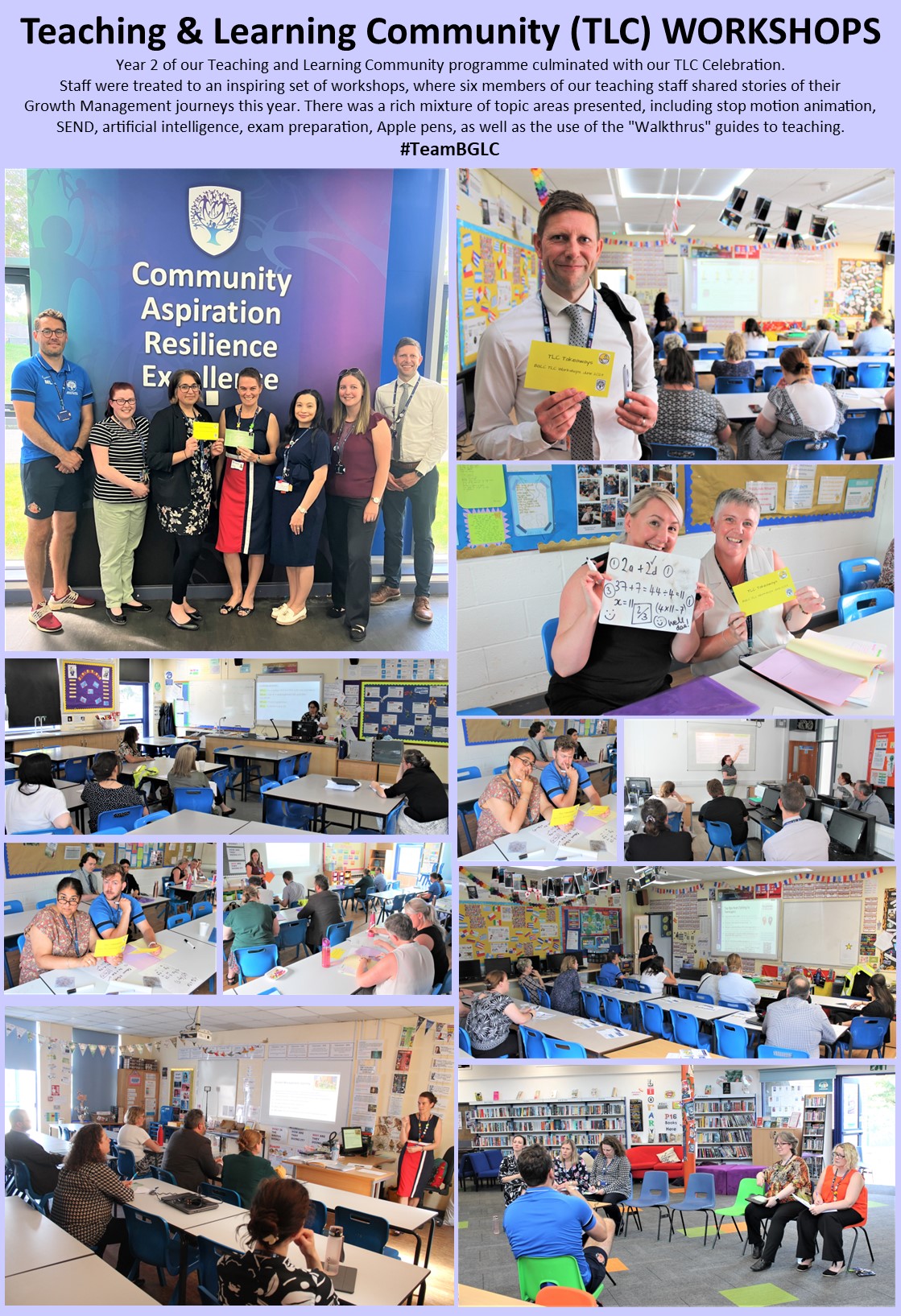 We will also continue to explore themes from the Teaching Walkthrus book,
a pedagogical tool which is steeped in evidence-based research.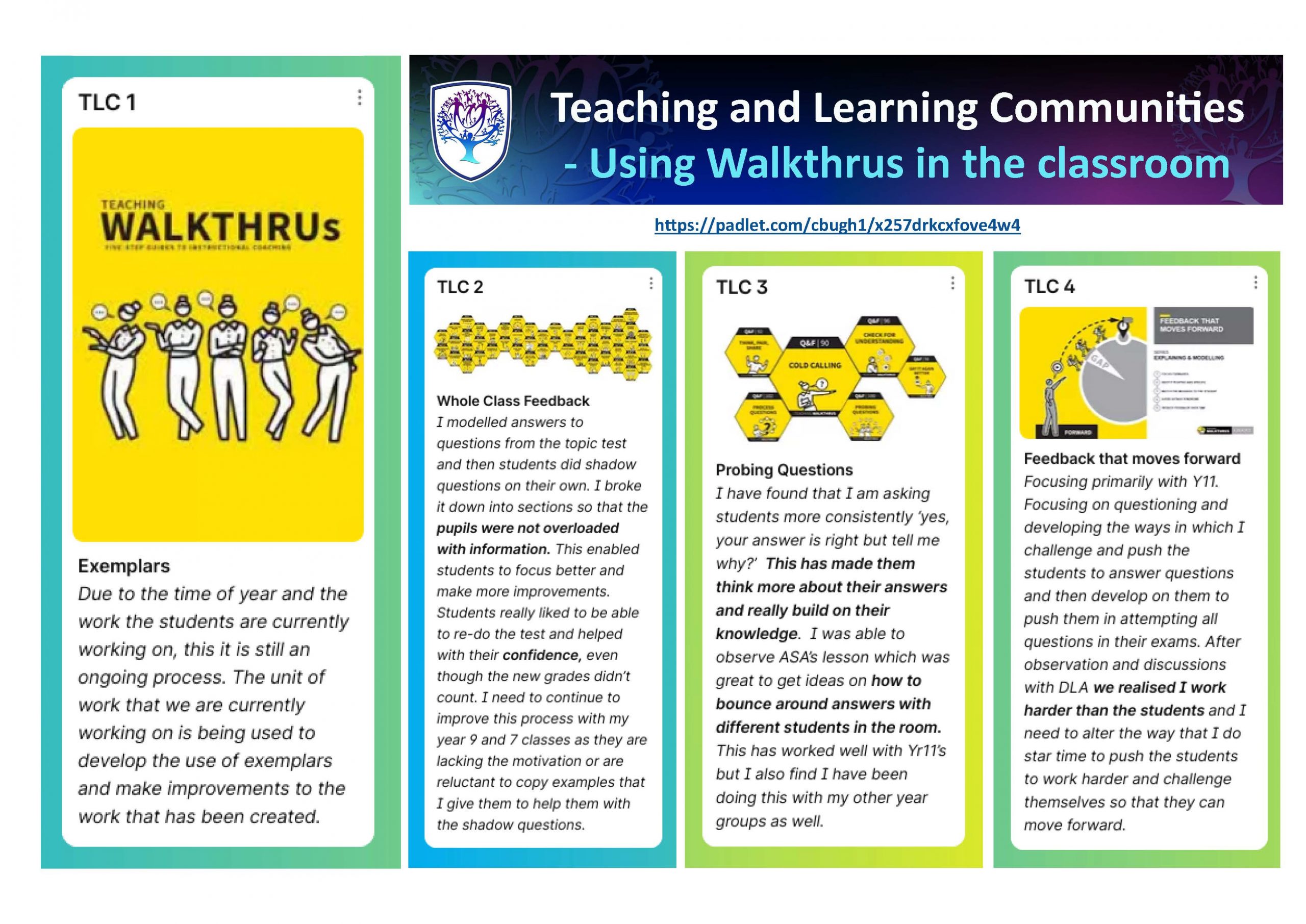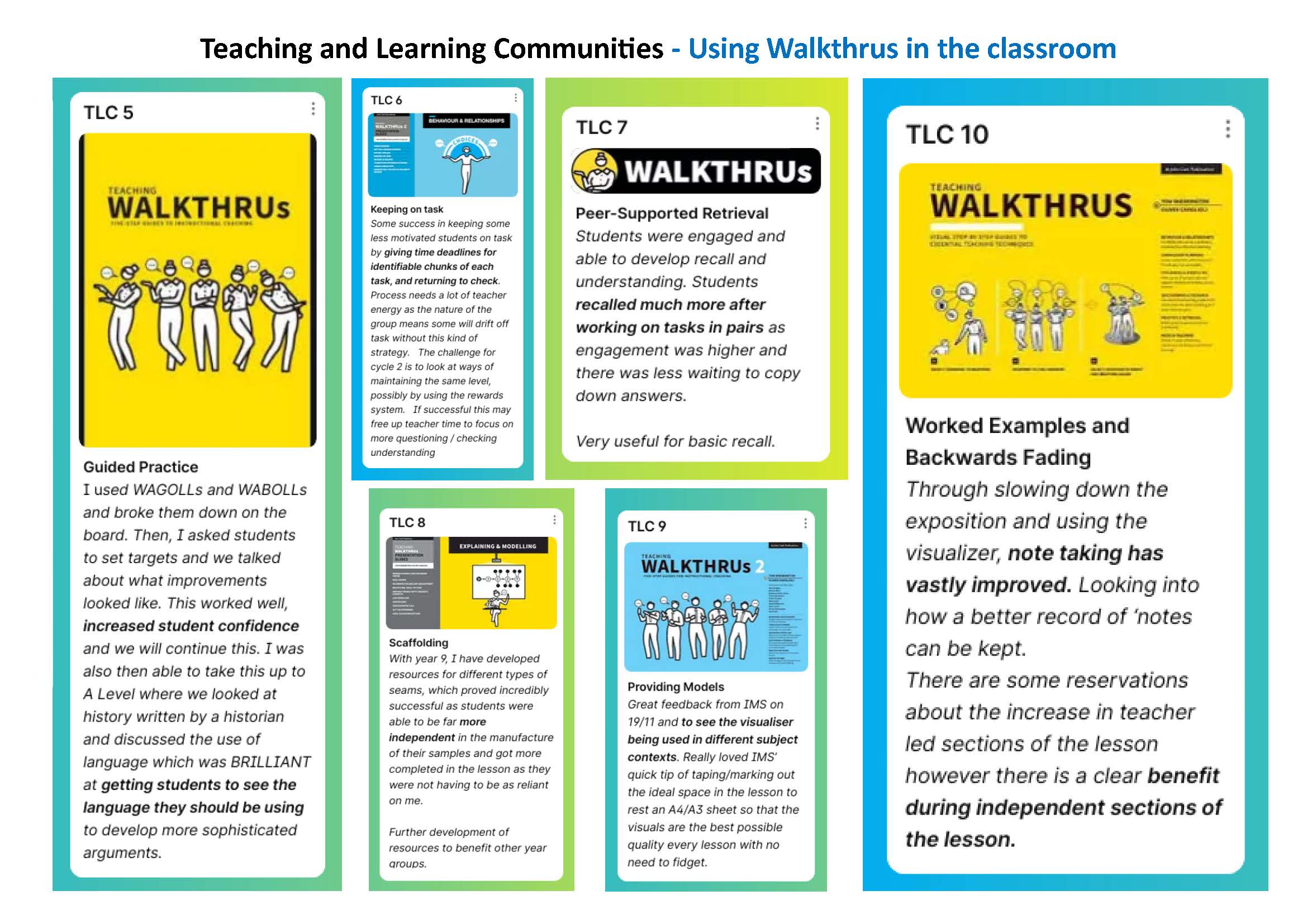 Teachers will be collaborating on the following themes:
Behaviour and Relationships
Curriculum Planning
Explaining and Modelling
Questioning and Feedback
Practice and Retrieval