Extra-curricular opportunities
at Brookvale Groby Learning Campus
Brookvale Groby students have a wealth of trips, clubs, extra-curricular activities and enrichment opportunities to choose from. These are all not only fun but also a great way to develop friendships with others. The large variety of activities at BGLC develop many skills in our students, including leadership, team building, organisation and problem solving, to name a few.
The PE faculty offers students the chance to compete as part of a team or to attend participation clubs. No matter the prior standard or experience of the students, there is something for everyone. Sports and activities on offer include basketball, volleyball, cricket, tennis, rounders, softball, badminton and fitness development.
There are similarly many opportunities to perform.  Drama (including an annual whole school production) and Music (regular concerts throughout the year) and dance are all enjoyed during lunchtimes and after school by many students.  Students can learn to play the keyboard, have singing or drumming lessons or join a band to put their performances together. Students in Post 16 can also gain technical abilities through our production arts enrichment.
Students in Key stages 3 and 4 have the opportunity to develop a wide range of skills through our extra curricular program.  Activities on this program allow students to demonstrate LORIC skills (Leadership, Organisation, Resilience, Initiative and Communication) which leads to the PiXL edge award at apprentice, graduate and master levels.  As students go up the levels,  challenges increase in difficulty and are delivered to a wider audience.
The aim of the PiXL Edge Award and the activities on it is to develop a broad range of skills and qualities outside of academic achievement, and to provide students with material for their CV that they could discuss at a future interview.
PiXL Edge ensures that all students will be rewarded for their non-academic achievements so that, as a school, we celebrate their successes beyond results.
Students in Post 16 have a large variety of enrichment activities to choose from many delivered through their enrichment afternoon.  Students have been involved in activities such as volunteering and mentoring, medical club and debating club.
We encourage all students to develop themselves through our enrichment and extra-curricular provisions, so that they leave Brookvale Groby as well-rounded citizens who are equipped with the skills they need for life.
---
SPORTS / PE
Extra-curricular Sporting opportunities are vast, with all students able to participate.
We keep parents/carers up-to-date with fixture information via our Twitter account: @BGLC_PE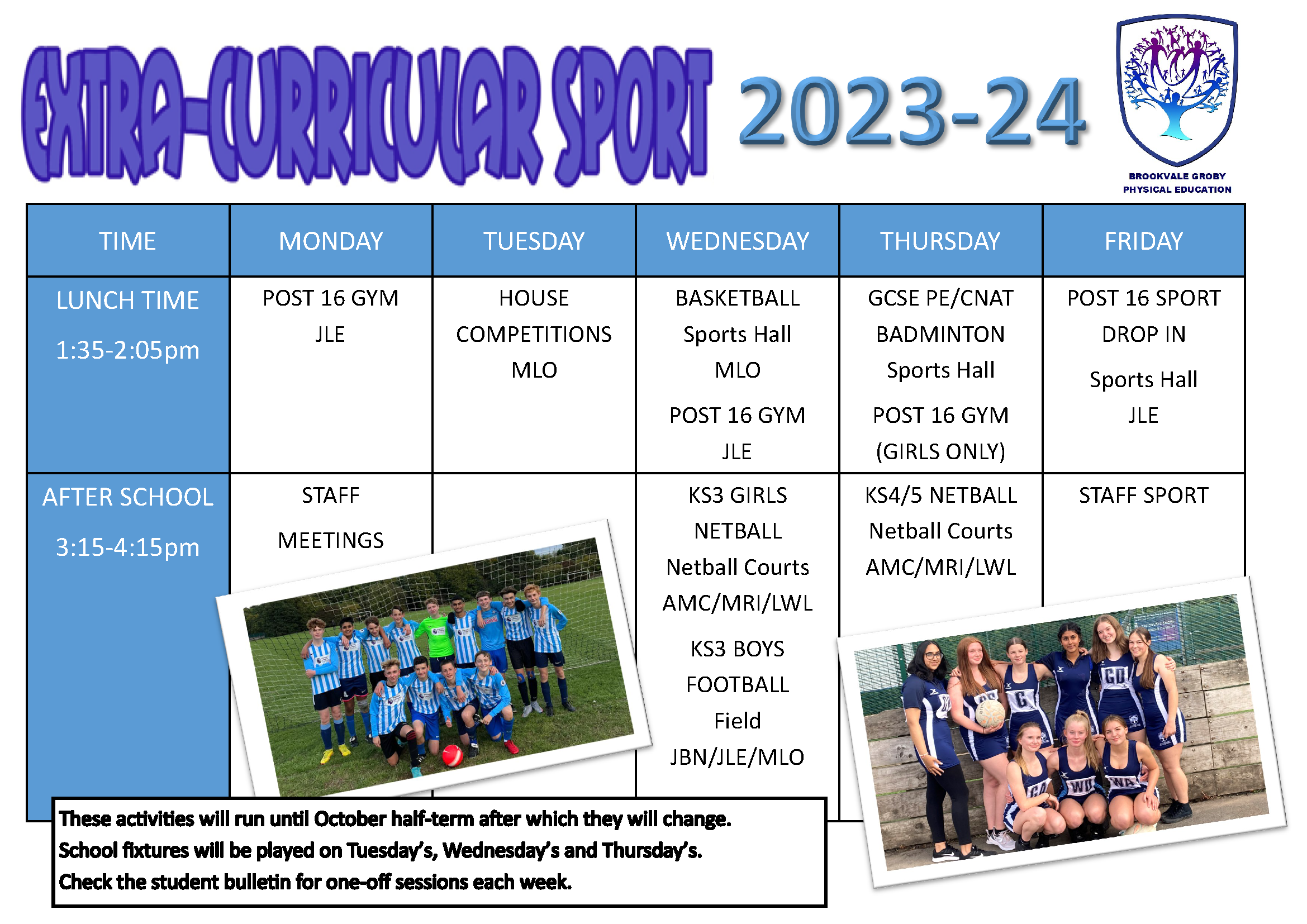 ---
PERFORMING ARTS
Music and Performing Arts extra-curricular list is shown below.
We keep parents/carers up-to-date with information via our Twitter account: @BGLC_PA

This is an information letter for parents about instrumental lessons – Instrumental Tuition